Audi 4000 Oil Pump Parts Direct from the Wholesale Source
Call us at (800) 240-4620 with any questions regarding Audi 4000 Oil Pump parts. We are standing by to help you find anything you may need for your auto. Our website has been live for nearly a decade now. Order today. You would be hard pressed to find any other Audi 4000 Oil Pump parts store online that is more reasonably priced. We have been providing our customers with the best possible experience for almost 30 years. Been searching everywhere for hard to find Audi 4000 Oil Pump auto parts, search no further. Our talented experts are always ready to help you place a Audi 4000 Oil Pump order.
Most Popular Audi 4000 Oil Pumps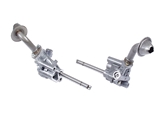 Why Buy Audi 4000 Oil Pump Parts from AutohausAZ?
About the only thing we do not carry is sheet metal body parts. We offer wholesale pricing direct to you, the public. The internet is full of auto parts sites, find out why we are the best. We will ship your order as soon as possible using UPS.