Audi A4 Grille Assembly Parts - Wide Selection to Choose From
Contact our knowledgeable and courteous staff using our toll free number. Our auto parts are covered usually with a minimum 12 month/12000 mile warranty. We care about you, our customer. Not only do we have Audi A4 Grille Assembly parts, we also carry parts for a variety of other automobiles. Make sure to read any Audi A4 Grille Assembly parts notes when searching through our catalog. Join the Audi A4 Grille Assembly online parts revolution and order Audi A4 Grille Assembly auto parts from us. No matter how much an order weighs, we will ship any order of Audi A4 Grille Assembly parts to the 48 states at no cost to you. Phoenix and International callers, call (602) 276-9402.
Most Popular Audi A4 Grille Assemblies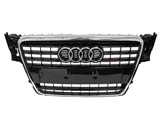 MY09-12 - A4
MY09-12 - A4 Quattro Base, Avant
Why Buy Audi A4 Grille Assembly Parts from AutohausAZ?
We will protect your information as if it were our own. Stop waiting 4-6 weeks for credits for returns, we usually credit your account within days of receiving your return. While browsing through our jam packed catalog, you will notice the thousands of auto parts we carry. Our secure online payment system is much safer than using your credit card at your local retailer. We do not sell your email address to any advertising companies.