Audi A5 AC Condenser Parts Online Catalog
Good customer service is important to us. Stop buying from Audi A5 AC Condenser parts stores that outsource their phone support abroad. AutohausAZ succeeds in being a reliable and dependable Audi A5 AC Condenser parts source. Our talented experts are always ready to help you place a Audi A5 AC Condenser order. Answers to your questions are just a phone call away. Be confident in knowing we offer a hassle free return policy. Our Audi A5 AC Condenser parts experience is what sets us apart from the rest of the Audi A5 AC Condenser parts sites on the net.
Most Popular Audi A5 AC Condensers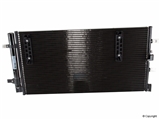 MY08-11 - A5 Cabriolet, Quattro
MY09-11 - A5 Quattro Base, Cabriolet
Why Buy Audi A5 AC Condenser Parts from AutohausAZ?
The internet is full of auto parts sites, find out why we are the best. Our website is constantly open to you shop at. Our order system uses the absolute latest in ssl encryption technology. AutohausAZ has the best selection on the net of all kinds of auto parts. Since we do not have retail locations, we can offer better pricing on the best brands.