Audi A6 Muffler Parts for Wholesale Pricing
Whenever you order $48 or more of Audi A6 Muffler parts, we will ship your order free UPS Ground. We stock Audi A6 Muffler parts for you so you can get them quickly. Skip the cookie cutter Audi A6 Muffler parts websites out there and use us to buy your Audi A6 Muffler auto parts. Be confident in knowing we offer a hassle free return policy. Should you have any problems with your Audi A6 Muffler parts order, feel free to contact us so we can correct it. We can save you up to 90% off your local dealer on the auto parts you need for your car or truck. We protect your privacy by not revealing any information you give us. We cannot afford to shop out anything less than the best because we guarantee 100% satisfaction.
Most Popular Audi A6 Mufflers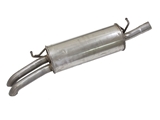 MY98-98 - A6
Rear ~ Cylinder Head Type: DOHC; Valvesper Engine: 30
Why Buy Audi A6 Muffler Parts from AutohausAZ?
AutohausAZ.com is extremely well known for its top notch customer service. It would be hard for you to find another website with better prices and better customer service. We ship parts all around the world. We never give out personal information on our customers to anyone. We do not sell your email address to any advertising companies.