Audi A8 Radiator Parts Large Selection
We are the perfect answer to your OEM Audi A8 Radiator parts search. Utilize our expertise when it comes to Audi A8 Radiator auto parts. AutohausAZ is one of the largest auto parts suppliers online. We are here for all your auto parts needs. We accept credit card or paypal for all Audi A8 Radiator parts orders online. We service hundreds of thousands of customers online. Been searching everywhere for hard to find Audi A8 Radiator auto parts, search no further.
Most Popular Audi A8 Radiators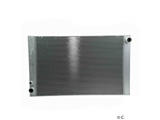 MY07-10 - A8 Quattro Base, L
MY05-05 - A8 Quattro L
Center ~ From 7/04 Main VIN 4E.5.005 250
MY06-09 - A8 Quattro Base, L
Center ~ Main
Why Buy Audi A8 Radiator Parts from AutohausAZ?
We carry the absolute best in auto parts. We ship parts all around the world. Don't be a bystander any longer, order from us. About the only thing we do not carry is sheet metal body parts.