Audi Cabriolet Antenna Mast Auto Parts
Stop searching the internet, you have come to the best place for auto parts on the net. AutohausAZ.com is extremely well known for its top notch customer service. Audi Cabriolet Antenna Mast parts are our specialty. Whenever you order $48 or more of Audi Cabriolet Antenna Mast parts, we will ship your order free UPS Ground. No matter how much an order weighs, we will ship any order of Audi Cabriolet Antenna Mast parts to the 48 states at no cost to you. We stock millions of Audi Cabriolet Antenna Mast parts in our warehouses located across the country. Purchase auto parts from our website Sunday through Saturday. Our online store has the absolute highest quality and best priced auto parts on the web.
Most Popular Audi Cabriolet Antenna Masts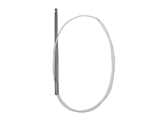 For models with Hirschmann replacement antenna model Auta 2040, please verify Hirschmann number...
Why Buy Audi Cabriolet Antenna Mast Parts from AutohausAZ?
It would be hard for you to find another website with better prices and better customer service. Email us to get any help you may need. Stop waiting 4-6 weeks for credits for returns, we usually credit your account within days of receiving your return. Join our maintenance club and receive emails when your vehicle is due for its next service. Good customer service is important to us.