Audi Cabriolet Fuel Pump Parts and Technical Articles
No matter if it is for your daily driver or your classic restoration project, we have the auto parts you need at the right prices. We are here to help. Every Audi Cabriolet Fuel Pump part you could ever ask for can be found in our online store. We want everyone to be able to enjoy warehouse direct pricing on Audi Cabriolet Fuel Pump auto parts. Our website has many informative articles than can help you diagnose problems. Purchasing Audi Cabriolet Fuel Pump parts online from AutohausAZ.com can be a huge benefit to you. We cannot afford to shop out anything less than the best because we guarantee 100% satisfaction. Save piles of cash by buying your Audi Cabriolet Fuel Pump auto parts from us.
Most Popular Audi Cabriolet Fuel Pumps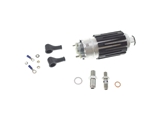 1 per car.
MY95-95 - Cabriolet
In-Line ~ Engine VIN: A
In-Line ~ Engine VIN: L
Why Buy Audi Cabriolet Fuel Pump Parts from AutohausAZ?
Don't be a bystander any longer, order from us. Stop waiting 4-6 weeks for credits for returns, we usually credit your account within days of receiving your return. We are able to give you great prices. Use our auto parts catalog online any time of day, any day of the week.