Audi Coupe Clutch Kit Parts at Discounted Prices
We strive to make the ordering process as easy as possible. We provide OE, OES and OEM quality replacement Audi Coupe Clutch Kit parts. Shop securely for any Audi Coupe Clutch Kit replacement parts you need. Stop buying from Audi Coupe Clutch Kit parts stores that outsource their phone support abroad. All of our catalog is available to you every hour of every day of the year. Stop waiting 4-6 weeks for credits for returns, we usually credit your account within days of receiving your return. AutohausAZ.com is extremely well known for its top notch customer service. Most brake jobs ship for free since we have free shipping over $48 on Audi Coupe Clutch Kit parts orders.
Most Popular Audi Coupe Clutch Kits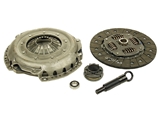 MY90-91 - Coupe Quattro
240mm
Why Buy Audi Coupe Clutch Kit Parts from AutohausAZ?
We ship parts all around the world. Don't miss out on using one of the most secure online shopping experiences on the net. We are standing by to help you find anything you may need for your auto. We never give out personal information on our customers to anyone. Shop auto parts from anywhere in the world using our online ordering system.