Audi Coupe Starter Parts and Technical Articles
AutohausAZ values its customers. Our staff is waiting to hear from you via email. Our Audi Coupe Starter web parts store is open every second of every minute of every hour of every day. While browsing through our jam packed catalog, you will notice the thousands of auto parts we carry. We are awaiting your Audi Coupe Starter auto parts order to get your order in motion. We have been selling Audi Coupe Starter parts for nearly 30 years. We ship Audi Coupe Starter parts out of warehouses located across the country.
Most Popular Audi Coupe Starters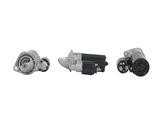 1 per car.
MY81-87 - Coupe Base, Custom, Deluxe, GT
MY83-83 - Coupe Quattro Turbo
1.4kw 9 Tooth Gear Fits Bosch System Gear Reduction
MY90-91 - Coupe Quattro
1 per car. Special order item - limited availability.
Why Buy Audi Coupe Starter Parts from AutohausAZ?
We have been providing our customers with the best possible experience for almost 30 years. Since we do not have retail locations, we can offer better pricing on the best brands. In addition to credit cards, we also accept paypal. The internet is full of auto parts sites, find out why we are the best. Our main focus is to provide you, the customer, with the best parts at the best prices with the best customer service.