Audi Q5 Alternator Parts Online Catalog
No matter how much an order weighs, we will ship any order of Audi Q5 Alternator parts to the 48 states at no cost to you. Use our maintenance club to help remind you when you need to order Audi Q5 Alternator parts. We always display our lowest prices. AutohausAZ is one of the largest auto parts suppliers online. Sit back and relax when you buy Audi Q5 Alternator parts from our website store. AutohausAZ succeeds in being a reliable and dependable Audi Q5 Alternator parts source. While browsing through our jam packed catalog, you will notice the thousands of auto parts we carry.
Most Popular Audi Q5 Alternators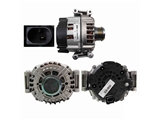 MY13-15 - Q5 Hybrid Prestige, Premium, Premium Plus
180Amp. 2.0L Fits Valeo System w/ 6 Poly Groove Clutch Pulley; Fuel Type: FLEX
Why Buy Audi Q5 Alternator Parts from AutohausAZ?
We do not sell your email address to any advertising companies. Our main focus is to provide you, the customer, with the best parts at the best prices with the best customer service. Our low, low prices on auto parts cannot be beat. We keep all your information strictly private. About the only thing we do not carry is sheet metal body parts.