Audi R8 Thermostat Parts - EZ Returns & Free Shipping on $48+ Orders
Stop waiting 4-6 weeks for credits for returns, we usually credit your account within days of receiving your return. Our main focus is to provide you, the customer, with the best parts at the best prices with the best customer service. Question about a particular part, email our parts department at Parts@AutohausAZ.com. Find the best quality and lowest prices on Audi R8 Thermostat parts through our website. AutohausAZ.com is the premier place to buy Audi R8 Thermostat parts online. Call our hotline and let us transfer you to our Audi R8 Thermostat parts specialist. If you live in the 48 contiguous states, you can receive free shipping for Audi R8 Thermostat parts orders over $48.00.
Most Popular Audi R8 Thermostats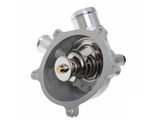 MY08-15 - R8 Base, GT, Plus, Spyder
w/ housing
Why Buy Audi R8 Thermostat Parts from AutohausAZ?
The internet is full of auto parts sites, find out why we are the best. Our knowledgeable staff is ready to help you find the auto parts you need for your vehicle. As soon as your order ships, we will send you all the tracking information through your email so you can track your package. We always display our lowest prices.