Audi RS6 Ignition Coil Parts for Wholesale Pricing
We carry all kinds of Audi RS6 Ignition Coil replacement parts Let AutohausAZ.com be that company that helps you with your Audi RS6 Ignition Coil parts purchase. Good customer service is important to us. Our reps can assist you in any order placement questions you have. Every Audi RS6 Ignition Coil parts has been discounted to wholesale or lower to give you the best deal possible. Our main focus is to provide you, the customer, with the best parts at the best prices with the best customer service. Browse our online Audi RS6 Ignition Coil parts catalog any time of day or night.
Most Popular Audi RS6 Ignition Coils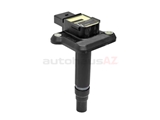 Please verify existing units on car prior to ordering - this coil unit is specific to listed engine...
Why Buy Audi RS6 Ignition Coil Parts from AutohausAZ?
Since we do not have retail locations, we can offer better pricing on the best brands. Don't be a bystander any longer, order from us. While browsing through our jam packed catalog, you will notice the thousands of auto parts we carry. We never give out personal information on our customers to anyone.