Audi S6 Clutch Kit Parts Superstore
Never wait for an OE Audi S6 Clutch Kit replacement part. Don't be a bystander any longer, order from us. Our reps can assist you in any order placement questions you have. Find out what the thousands of other auto parts shoppers have already figured out by ordering from AutohausAZ. Choose from our many great shipping options when ordering Audi S6 Clutch Kit parts from our web store. Find the best quality and lowest prices on Audi S6 Clutch Kit parts through our website. Not only do we have Audi S6 Clutch Kit parts, we also carry parts for a variety of other automobiles.
Most Popular Audi S6 Clutch Kits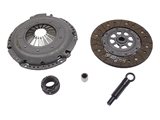 1 kit per car. Special order item - limited availability.
Why Buy Audi S6 Clutch Kit Parts from AutohausAZ?
Get your vehicle back on the road right away by ordering your auto parts from AutohausAZ.com. We cannot afford to shop out anything less than the best because we guarantee 100% satisfaction. Our pricing is the lowest to be found on the internet today. Check the status of your order via our website. Autohaus prides itself on being able to give customers the best quality at the best price.