Audi S8 Alternator Parts Superstore
Order Audi S8 Alternator parts 24/7 using our online catalog and ordering system. We take pride in offering the best customer service of any online auto parts store. Our web store makes it possible to order your Audi S8 Alternator parts at two in the morning while in your pajamas. No delivery fee on any Audi S8 Alternator parts orders over $48 smackaroos. Even when your local auto parts store is closed, our website is open. Stop buying from Audi S8 Alternator parts stores that outsource their phone support abroad. Use our auto parts catalog online any time of day, any day of the week.
Most Popular Audi S8 Alternators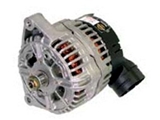 For models with 150 amp Bosch alternator, please verify prior to ordering. 1 per car.
Why Buy Audi S8 Alternator Parts from AutohausAZ?
We offer wholesale pricing direct to you, the public. AutohausAZ is dedicated to helping the do-it-yourselfer. Hundreds of thousands of other customers use us, try us and find out why. Order auto parts from us using our secure order process system.