Audi Side Marker Parts Warehouses
Use our auto parts catalog online any time of day, any day of the week. No delivery fee on any Audi Side Marker parts orders over $48 smackaroos. If you ever have a problem with your order, we will do our best to correct the problem. Call today. Choose from our many great shipping options when ordering Audi Side Marker parts from our web store. Since we do not have retail locations, we can offer better pricing on the best brands. Order Audi Side Marker parts directly from our Audi Side Marker auto parts online catalog. You no longer to search the internet for Audi Side Marker parts because we offer the best brands at the best prices.
Most Popular Audi Side Markers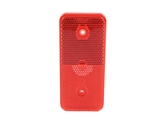 Marker light lenses for assemblies on rear fenders, left or right. 2 per car.
Why Buy Audi Side Marker Parts from AutohausAZ?
Email us to get any help you may need. Our pricing is the lowest to be found on the internet today. Stop waiting 4-6 weeks for credits for returns, we usually credit your account within days of receiving your return. Our main focus is to provide you, the customer, with the best parts at the best prices with the best customer service.