BMW 135i Antenna Mast Parts - Wide Selection to Choose From
AutohausAZ is dedicated to helping the do-it-yourselfer. As soon as your order ships, we will send you all the tracking information through your email so you can track your package. Even when your local auto parts store is closed, our website is open. Buy your maintenance BMW 135i Antenna Mast parts from us. Feel secure knowing our website uses up to 256 bit encryption. Not only do we have BMW 135i Antenna Mast parts, we also carry parts for a variety of other automobiles. Most brake jobs ship for free since we have free shipping over $48 on BMW 135i Antenna Mast parts orders. Our web presence means you can save a load of money on BMW 135i Antenna Mast parts.
Most Popular BMW 135i Antenna Masts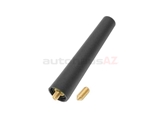 MY08-13 - 135i
Body Type: Convertible
Why Buy BMW 135i Antenna Mast Parts from AutohausAZ?
Need to get your auto parts without the hassle, try our website. Our online store has the absolute highest quality and best priced auto parts on the web. About the only thing we do not carry is sheet metal body parts. Our knowledgeable staff is ready to help you find the auto parts you need for your vehicle. While browsing through our jam packed catalog, you will notice the thousands of auto parts we carry.