BMW Brake Accumulator Parts for Wholesale Pricing
If you have any questions, feel free to call our toll free order line. We have staff dedicated to helping you order BMW Brake Accumulator parts from our website. Question about a particular part, email our parts department at Parts@AutohausAZ.com. Finding the right BMW Brake Accumulator parts can be a daunting task. Let us help you find that specific BMW Brake Accumulator part you are looking for. You can feel comfortable buying BMW Brake Accumulator auto parts from us because we have a hassle free return policy. Our qualified customer service personnel are waiting to answer your BMW Brake Accumulator parts questions. Need to get your auto parts without the hassle, try our website.
Most Popular BMW Brake Accumulators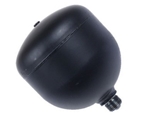 Due to ground shipment only restrictions, this unit cannot be shipped outside the 48 contiguous...
BMW 535i, M5, 635CSi, M6, 735i, 633CSi, 533i, 535is, 733i
Why Buy BMW Brake Accumulator Parts from AutohausAZ?
Our extensive catalog of auto parts is sure to impress you. Give our catalog a chance. AutohausAZ is bar none the best place online to buy auto parts. We have been providing our customers with the best possible experience for almost 30 years. Since we do not have retail locations, we can offer better pricing on the best brands.