BMW Brake Pad Shim Parts at Discount Prices
We ship our BMW Brake Pad Shim parts from many different warehouses from all across the USA. We carry all kinds of BMW Brake Pad Shim replacement parts Our reps can assist you in any order placement questions you have. Stop searching around for the best prices on BMW Brake Pad Shim parts. AutohausAZ.com is the answer. If you have any questions, feel free to call our toll free order line. Look no further for your BMW Brake Pad Shim parts. Use our online catalog any time of day. Join our maintenance club and receive emails when your vehicle is due for its next service.
Most Popular BMW Brake Pad Shims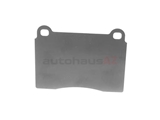 BMW 528i, 530i, 735i, 2002tii, 633CSi, 3.0CS, 733i, 3.0 Bavaria, 2800CS, 630CSi
Why Buy BMW Brake Pad Shim Parts from AutohausAZ?
Never worry about when our web store is open. It always is. We designed our website and catalog for ease of use. Be confident in knowing we offer a hassle free return policy. We will ship your order as soon as possible using UPS. We never give out personal information on our customers to anyone.