BMW Sunroof Relay Parts and Technical Articles
It is always fun to save tons of money on BMW Sunroof Relay parts. Finding the BMW Sunroof Relay parts you need for your BMW Sunroof Relay is easy with our online web catalogue. We offer our catalog online so you can enjoy our selection of auto parts any time you want. We want everyone to be able to enjoy warehouse direct pricing on BMW Sunroof Relay auto parts. Our prices are quite a bit lower than retail and dealer pricing. When you order BMW Sunroof Relay parts from us, we will ship it from the closest warehouse we have it in stock. Calling our toll free hotline will allow us to direct you to a qualified specialist. When your item ships, our system automatically emails you with tracking information.
Most Popular BMW Sunroof Relays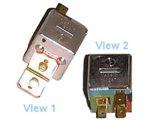 Special order item, usually ships in 2-3 days.
BMW 325i, 528i, 535i, 530i, 318i, 325is, 325e, 528e, 635CSi, 325 & more
Why Buy BMW Sunroof Relay Parts from AutohausAZ?
AutohausAZ is bar none the best place online to buy auto parts. Our professional sales staff is ready to take your order. Our customer service is second to none in the auto parts industry. Navigate through our extensive auto parts catalog to find all the maintenance parts you need.