BMW Sunroof Relay Parts and Technical Articles
It is always fun to save tons of money on BMW Sunroof Relay parts. Finding the BMW Sunroof Relay parts you need for your BMW Sunroof Relay is easy with our online web catalogue. We offer our catalog online so you can enjoy our selection of auto parts any time you want. We want everyone to be able to enjoy warehouse direct pricing on BMW Sunroof Relay auto parts. Our prices are quite a bit lower than retail and dealer pricing. When you order BMW Sunroof Relay parts from us, we will ship it from the closest warehouse we have it in stock. Calling our toll free hotline will allow us to direct you to a qualified specialist. When your item ships, our system automatically emails you with tracking information.
Most Popular BMW Sunroof Relays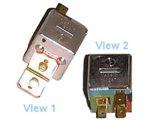 Special order item, usually ships in 2-3 days.
BMW 325i, 528i, 535i, 530i, 325is, 318i, 325e, 635CSi, 528e, 325 & more
Why Buy BMW Sunroof Relay Parts from AutohausAZ?
Instead of price matching, we just price all our auto parts as low as we can. All of our catalog is available to you every hour of every day of the year. AutohausAZ.com brings wholesale pricing to the masses. Our hassle free 30 day return policy is one of the best in the industry. Auto parts, auto parts and more auto parts is what you will find searching our site.