BMW Turn Signal Relay Parts - EZ Returns & Free Shipping on $48+ Orders
Skip the cost of delivery of your BMW Turn Signal Relay parts order when you spend in excess of fifty dollars. Instead of price matching, we just price all our auto parts as low as we can. Find the best quality and lowest prices on BMW Turn Signal Relay parts through our website. Not only do we have an online ordering system, you can also order from us via the phone. We ship parts all around the world. OE BMW Turn Signal Relay parts means we sell original equipment auto parts. AutohausAZ.com is the premier place to buy BMW Turn Signal Relay parts online.
Most Popular BMW Turn Signal Relays
BMW 325i, 535i, M3, M5, 318i, 325is, 325e, 320i, 325iC, 528e & more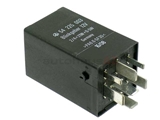 Please verify appearance, connections and part number on existing relay prior to ordering. 1 per...
BMW 328i, 325i, 535i, 530i, M3, 525i, Z3 Roadster, 540i, 740iL, 740i & more
Why Buy BMW Turn Signal Relay Parts from AutohausAZ?
Be confident in knowing we offer a hassle free return policy. We are able to give you great prices. Our knowledgeable staff is ready to help you find the auto parts you need for your vehicle. Need to get your auto parts without the hassle, try our website. We strive to make the ordering process as easy as possible.