Lexus Mirror Parts - Wide Selection to Choose From
Shop and buy Lexus Mirror parts from the comfort of your own home. Feel confident ordering from us, call our toll free telephone number, (800) 240-4620. Our extensive Lexus Mirror auto parts inventory is sure to satisfy the most fanatical of car hobbyists. We never reveal your personal information to anyone. Finding the Lexus Mirror parts you need for your Lexus Mirror is easy with our online web catalogue. If you want an unbelievable selection of the high quality Lexus Mirror parts at discounted prices, AutohausAZ is your Lexus Mirror parts source. Find out what the thousands of other auto parts shoppers have already figured out by ordering from AutohausAZ.
Most Popular Lexus Mirrors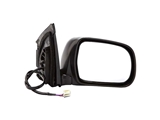 Lexus RX350 AWD, RX350 FWD, RX330 AWD, RX330 FWD, RX400h AWD, RX400h FWD
Why Buy Lexus Mirror Parts from AutohausAZ?
Since we do not have retail locations, we can offer better pricing on the best brands. We have specialists standing by to help you find what you need. We ship parts all around the world. Need to get your auto parts without the hassle, try our website.