AAZ Preferred Valve Cover Repair Kit; Valve Cover, Tubes, Oil Cap, Screws, Hose; KIT
P/N:
N5152VCKIT
AAZ Preferred
KIT
Description:
This kit contains all the commonly replaced parts when servicing your BMW valve cover. It includes the valve cover with gasket and bolts, spark plug tubes, oil filler cap, breather hose, and trim cover screws.
Left = Driver side and Right = Passenger side.
All parts are priced individually unless identified as a set or kit. "Per car" notes identify how many of a given part your car has and "Left/Right or Front/Rear" notes means the part fits the left or right side of the car. These parts are still sold individually and you'll need to select the appropriate quantity if you plan to replace more than one of this item.
Kit Contents
This part number is sold as a kit and contains the following parts below.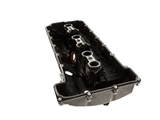 This part is currently on BACKORDER. If you would like to check availability,...
Why Buy OEM & Genuine Replacement Auto Parts from AutohausAZ?
Auto parts at wholesale prices is what you will find at AutohausAZ. Have you been searching the web for auto parts for your vehicle? You have come to the right place! Here at Autohaus, we strive to offer low prices on quality replacement parts and providing first rate customer service.