Saab Catalytic Converter Parts Massive Inventory
Save a considerable amount of money by purchasing your Saab Catalytic Converter parts brakes from us. We are standing by to get your order started. Order Saab Catalytic Converter parts 24/7 using our online catalog and ordering system. AutohausAZ.com is extremely well known for its top notch customer service. Our order system uses the absolute latest in ssl encryption technology. Saving big money on Saab Catalytic Converter parts can almost become a game on our website. Take a look at our feedback to see what our customers have to say. Need your Saab Catalytic Converter parts faster, try our expedited shipping options.
Most Popular Saab Catalytic Converters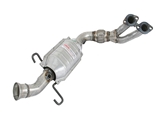 Why Buy Saab Catalytic Converter Parts from AutohausAZ?
You can contact us through email or through our toll free hotline. We designed our website and catalog for ease of use. AutohausAZ is a company you can trust. We ship parts all around the world. Feel confident that our secure ordering process will protect you from online fraud.