Discount Saab Repair Manual Parts
We want everyone to be able to enjoy warehouse direct pricing on Saab Repair Manual auto parts. Save piles of cash by buying your Saab Repair Manual auto parts from us. Our Saab Repair Manual parts customer service personnel are all located within the US. Get your vehicle back on the road right away by ordering your auto parts from AutohausAZ.com. Get free delivery of your Saab Repair Manual parts order when you spend at least $48. While browsing through our jam packed catalog, you will notice the thousands of auto parts we carry. Our website is constantly open to you shop at. We not only offer low prices, we also offer great quality.
Most Popular Saab Repair Manuals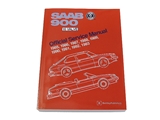 Why Buy Saab Repair Manual Parts from AutohausAZ?
Our pricing is the lowest to be found on the internet today. The internet is full of auto parts sites, find out why we are the best. Order auto parts from us using our secure order process system. We are standing by to help you find anything you may need for your auto. We offer our catalog online so you can enjoy our selection of auto parts any time you want.