Saab Tie Rod Assembly Parts - OEM & OE Parts
Our extensive Saab Tie Rod Assembly auto parts inventory is sure to satisfy the most fanatical of car hobbyists. All of our catalog is available to you every hour of every day of the year. If you cannot find some Saab Tie Rod Assembly parts you are looking for, email us at parts@autohausaz.com to find out if we can get it. Autohaus prides itself on being able to give customers the best quality at the best price. Please feel free to email our customer service department with any questions or comments you may have about your Saab Tie Rod Assembly parts order. Our prices are quite a bit lower than retail and dealer pricing. Our Saab Tie Rod Assembly parts customer service personnel are all located within the US.
Most Popular Saab Tie Rod Assemblies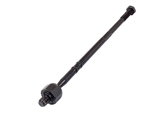 Why Buy Saab Tie Rod Assembly Parts from AutohausAZ?
We will ship your order as soon as possible using UPS. Be confident in knowing we offer a hassle free return policy. We take pride in offering the best customer service of any online auto parts store. No matter if it is for your daily driver or your classic restoration project, we have the auto parts you need at the right prices. Our website ensures you get the most secure transaction on the internet.