Saab Turn Signal Relay Parts at Low, Low Prices
We love to help you order Saab Turn Signal Relay parts online. We carry all kinds of Saab Turn Signal Relay replacement parts Check the status of your order via our website. In addition to providing the best Saab Turn Signal Relay parts on the internet, we pay for delivery if the order is more than fifty dollars. Feel secure knowing our website uses up to 256 bit encryption. We never close. Answers to your questions are just a phone call away. Please feel free to email our customer service department with any questions or comments you may have about your Saab Turn Signal Relay parts order.
Most Popular Saab Turn Signal Relays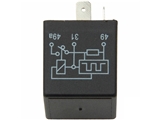 Why Buy Saab Turn Signal Relay Parts from AutohausAZ?
Navigate through our extensive auto parts catalog to find all the maintenance parts you need. We take pride in offering the best customer service of any online auto parts store. Our knowledgeable staff is ready to help you find the auto parts you need for your vehicle. AutohausAZ values its customers. Our order system uses the absolute latest in ssl encryption technology.