AAZ Preferred Drive Belt & Tensioner Kit
P/N:
DOD2BELTKIT
AAZ Preferred
KIT
Dodge Sprinter 2500, Sprinter 3500
Description:
If your Sprinter has more than 60,000 miles on it then its time to replace the drive belt, tensioner, tensioner shock, and idler pulleys. If your belts chirp or squeal when you start the engine or there is a constant squeal or grinding sound from one or more of the pulleys then it needs replacing right away.
This kit contains the belt tensioner and shock, idler pulleys and the drive belt to properly replenish the drive belt system on your Sprinter.
Left = Driver side and Right = Passenger side.
All parts are priced individually unless identified as a set or kit. "Per car" notes identify how many of a given part your car has and "Left/Right or Front/Rear" notes means the part fits the left or right side of the car. These parts are still sold individually and you'll need to select the appropriate quantity if you plan to replace more than one of this item.
Kit Contents
This part number is sold as a kit and contains the following parts below.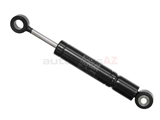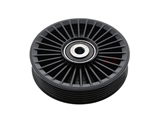 Why Buy OEM & Genuine Replacement Auto Parts from AutohausAZ?
Auto parts at wholesale prices is what you will find at AutohausAZ. Have you been searching the web for auto parts for your vehicle? You have come to the right place! Here at Autohaus, we strive to offer low prices on quality replacement parts and providing first rate customer service.
What This AAZ Preferred Drive Belt & Tensioner Kit Fits?
Application information below is for reference only and should not be used to determine the exact vehicle fitment. Please use the "Make Sure It Fits" vehicle selection box above to determine the exact fitment and review any application notes. If you need any help determining if this part works with your vehicle, please don't hesitate to contact us.
Dodge
MY07-08 - Sprinter 2500
Not for cars with Rear Air Conditioning (Code HBD).
MY07-08 - Sprinter 3500
Not for cars with Rear Air Conditioning (Code HBD).