Acura TL Starter Parts Discount Online Store
If your Acura TL Starter goes out in the middle of the night, order a replacement Acura TL Starter auto parts immediately from our online store. We care about you, our customer. We are the perfect answer to your OEM Acura TL Starter parts search. There is absolutely no bad time to order Acura TL Starter parts from our website. Find out what the thousands of other auto parts shoppers have already figured out by ordering from AutohausAZ. We only use your private information to complete your order and keep you apprised. Shop and buy Acura TL Starter parts from the comfort of your own home.
Most Popular Acura TL Starters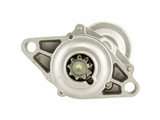 1 per car.
MY99-03 - TL Base, Type-S
MY02-03 - TL Base, Type-S
1.6kW 9 Tooth Gear Fits Mitsuba System Gear Reduction OE/OES Mitsuba in the box; Transmission Control Type: Automatic
MY04-06 - TL
Transmission Control Type: Automatic
Why Buy Acura TL Starter Parts from AutohausAZ?
Our knowledgeable staff is ready to help you find the auto parts you need for your vehicle. Our main focus is to provide you, the customer, with the best parts at the best prices with the best customer service. Our online store has the absolute highest quality and best priced auto parts on the web. Nearly every auto part you could ever need is available on our website.