Acura TL Transmission Filter Parts and Technical Articles
Order today. You no longer to search the internet for Acura TL Transmission Filter parts because we offer the best brands at the best prices. Every Acura TL Transmission Filter part you could ever ask for can be found in our online store. Contact our knowledgeable and courteous staff using our toll free number. Use our maintenance club to help remind you when you need to order Acura TL Transmission Filter parts. Online purchasing of Acura TL Transmission Filter auto parts is the future of fixing your vehicle. Helping you with auto parts is what we are here for.
Most Popular Acura TL Transmission Filters
MY00-03 - TL Base, Type-S
Spin-on style
MY04-06 - TL
Cartridge Style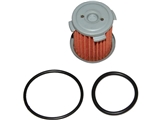 MY09-11 - TL Base, SH-AWD
Cartridge Style
Why Buy Acura TL Transmission Filter Parts from AutohausAZ?
In addition to credit cards, we also accept paypal. Stop waiting 4-6 weeks for credits for returns, we usually credit your account within days of receiving your return. We take pride in offering the best customer service of any online auto parts store. We have been providing our customers with the best possible experience for almost 30 years.