Discount Chevrolet CV Boot Parts
Give our catalog a chance. Stop buying from Chevrolet CV Boot parts stores that outsource their phone support abroad. We are more than willing to help you place your order over the phone. As unbelievable as it sounds, we will cover the shipping costs for your Chevrolet CV Boot parts order if it is over $48. If you are in need of high quality Chevrolet CV Boot parts, come try us out. Every Chevrolet CV Boot parts has been discounted to wholesale or lower to give you the best deal possible. Our pricing is the lowest to be found on the internet today.
Most Popular Chevrolet CV Boots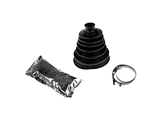 Chevrolet Cavalier, Tracker 4WD, Lumina, Nova, Prizm, LUV 4WD, LUV RWD, Beretta, Citation, Corsica & more
Why Buy Chevrolet CV Boot Parts from AutohausAZ?
Feel confident that our secure ordering process will protect you from online fraud. Our website ensures you get the most secure transaction on the internet. Our extensive catalog of auto parts is sure to impress you. The internet is full of auto parts sites, find out why we are the best. Our low, low prices on auto parts cannot be beat.