Chevrolet Radiator Parts Superstore
Our customer service for Chevrolet Radiator parts is second to none. If you have any questions, feel free to call our toll free order line. Get free delivery of your Chevrolet Radiator parts order when you spend at least $48. We carry the absolute best in auto parts. Our extensive Chevrolet Radiator auto parts inventory is sure to satisfy the most fanatical of car hobbyists. As soon as an item ships, we email your tracking number to you. If you cannot find some Chevrolet Radiator parts you are looking for, email us at parts@autohausaz.com to find out if we can get it.
Most Popular Chevrolet Radiators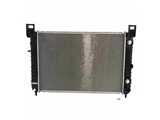 Chevrolet Silverado 1500 4WD, Tahoe 4WD, Silverado 1500 RWD, Tahoe RWD, Suburban 1500 4WD, Suburban 1500 RWD, Tahoe, Suburban 1500, Silverado 2500 4WD, Silverado 2500 RWD & more
Why Buy Chevrolet Radiator Parts from AutohausAZ?
As soon as your order ships, we will send you all the tracking information through your email so you can track your package. Use our accurate and secure online shopping system. Need to get your auto parts without the hassle, try our website. We always display our lowest prices.