Toyota Repair Manual Auto Parts
Our hassle free 30 day return policy is one of the best in the industry. General questions? Email us at Winners@AutohausAZ.com Never wait for an OE Toyota Repair Manual replacement part. You can count on AutohausAZ.com to deliver superior quality because we make sure to select all of our suppliers with great care. Our extremely qualified customer service reps can answer any Toyota Repair Manual auto parts question you may have. We strive to offer the best possible Toyota Repair Manual parts in our online catalog. Our catalog is full of Toyota Repair Manual parts you can order for wholesale prices. Order from us today.
Most Popular Toyota Repair Manuals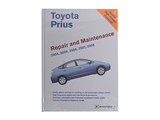 Why Buy Toyota Repair Manual Parts from AutohausAZ?
We offer wholesale pricing direct to you, the public. We never reveal your personal information to anyone. We ship parts all around the world. No matter if it is for your daily driver or your classic restoration project, we have the auto parts you need at the right prices.